Welcome to the world of lazy cooking.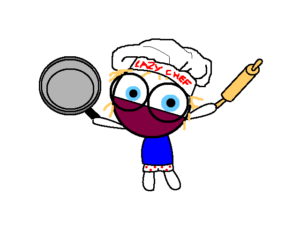 If you're serious about your goals you're likely very serious about wanting to keep accurate track of your calorie intake. If you're serious about accurate tracking then you probably already know that preparing your own meals is the way to go when possible. As serious as I am about wanting to prepare healthy, 'calorie-friendly' meals I am equally seriously sick of spending hours in the kitchen to make that happen. Since hiring a personal chef is out of the question I have made it my goal over the years to create simple recipes that are quick, moderate to low calorie and require very little fuss. I will now be sharing these recipes with you!
Banana Chocolate Chip Protein Blender Muffins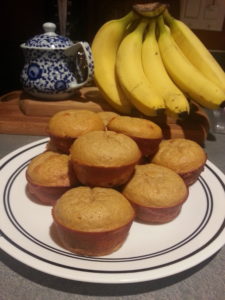 I promise that prepping this will be easier than remembering the name.
My blender is one of my favourite kitchen gadgets because it does all of the work for me. You do not need a blender for this recipe but it will greatly reduce prep time.
Ingredients
1.25 cup Kodiak Pancake/Waffle Mix
3 scoops vanilla whey
2 ripe bananas
1 cup coconut milk (or milk of choice. I used So Delicious Unsweetened)
1 egg
1/2 cup chocolate chips
1/3 cup honey
1 tsp pumpkin spice
Cooking spray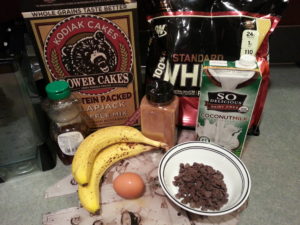 You'll also need:
A blender
A 12 serving muffin pan
Let's Make This:
Preheat the oven to 350 F.
Throw all of your ingredients in the blender EXCEPT the chocolate chips.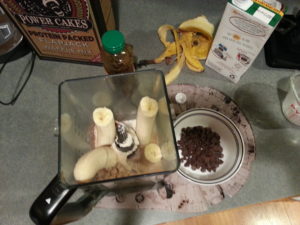 Blend on lowest setting or pulse to combine well! It won't take long to make a nice runny batter that's thinner than what you would use for a pancake.
Grease your muffin tin with cooking spray (well) and divide batter over the 12 muffin cups. Once poured, drop in your chocolate chips by hand, dividing it amongst the 12 muffins.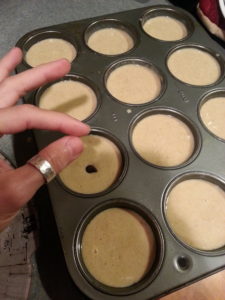 Bake at 350 for 25 mins or until your muffins are golden.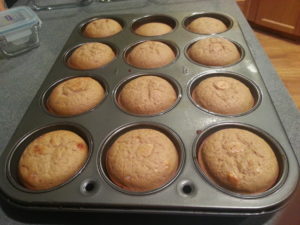 Makes 12 muffins at 190cals a pop!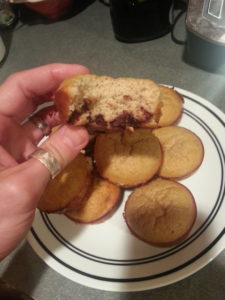 190 cals
PRO: 9g
FAT: 4g
CHO: 30g
Fiber: 4g
Sodium: 120mg
Potassium: 112mg
Adapted from this recipe: http://www.kodiakcakes.com/recipes/banana-chocolate-chip-power-cakes/