Welcome to the world of lazy cooking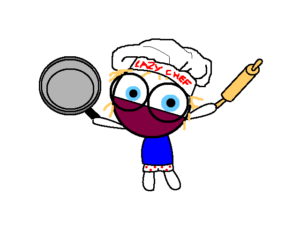 ---
This week's recipe came about when I found myself with the combination of not enough cauliflower to make my cauliflower soup and a serious hankering for a hot meal to end my day. I make a carrot soup in a similar fashion and so I decided to get creative and use up what cauliflower I had as well as a can of pumpkin puree that has been taking up space since Thanksgiving.
As usual, this recipe is quick, easy and nutritious and it just so happens to call for the blender yet again.
PUMPKIN CAULIFLOWER SOUP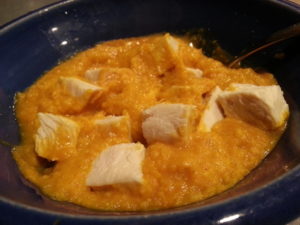 Ingredients
320g raw cauliflower, chopped (it doesn't have to be 320g exactly. That is what in had in the house. An even 300g would be fine!)
15 oz canned pumpkin
270g mango, chopped*
2 cups unsweetened coconut milk (I use the 45cal variety)
3 tbsp of grated fresh ginger
2 cloves of garlic, minced
1/4 cup of minced onion
1 tbsp of coconut oil or oil of choice
1/2 tsp ground tumeric
salt and pepper to taste
Notes
*You may be asking yourself why there is fruit in this soup. The soup itself is too salty on it's own and so it needs an element of sweet to balance itself. If you don't have mango you can use 1/2 a cup to 1 cup of juice such as mango juice, pear nectar or the juice of an entire orange.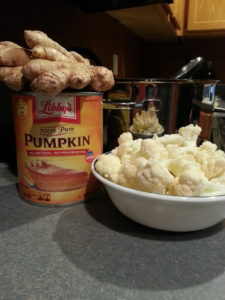 I would prep all of the ingredients before you begin cooking so that you can just toss, stir and go.
You'll also need:
A blender
A large pot
Let's Make This!
Place your pot on medium-low heat and add your coconut oil. When it melts, toss in your onions, garlic and ginger and stir until softened and fragrant.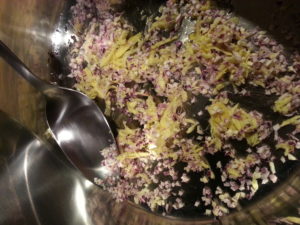 Smells pretty wonderful…
Anyways, that cooks pretty quickly so once that aroma is strong, toss in your cauliflower, pumpkin and the rest of your spices and stir until everything is well combined.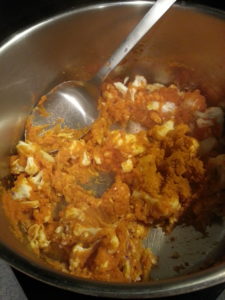 Once heated through, add in your coconut milk, stir well and allow everything to come to a simmer.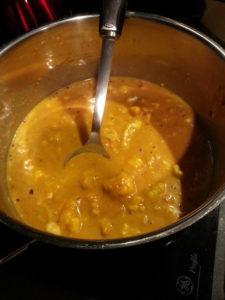 Once it is bubbling nicely you can add the mango! This is only about 130g in the photograph. I ended up adding the rest after pureeing and doing a taste test and decided that it needed more. Next time I will put all in at once. If you are using juice then add it at this point as well.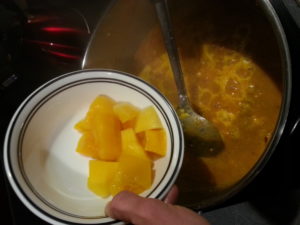 Allow that bad boy to simmer until the cauliflower is tender and easily pierced with a fork. Allow to cool.
Once cooled, toss the whole thing in the blender and puree until smooth.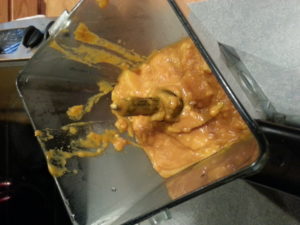 Eat as is or with some pre-cooked lean protein!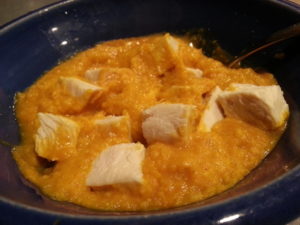 Makes 4 servings
160 cals (without added protein)
PRO: 3g
FAT: 6g
CHO: 26g
Fiber: 7g
Sodium: 323mg (I used about 1/2 tsp salt)
Potassium: 634mg