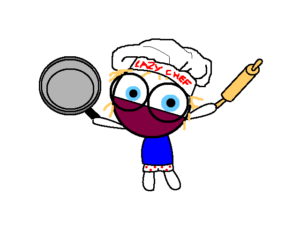 Welcome to the World of Lazy Cooking
---
When I think of a treat brownies are not usually the first baked good that comes to mind but every time that I have one in any form I have a reoccurring, 'Why don't I eat these more??' moment.
The best brownie recipe that I have ever made requires tons of butter and sugar and a huge amount of melted chocolate. It's divine but racks up about 500cals just for looking at it for too long. It's great for special occasion but it's not something that I'd want to be having every day. So I set out to create a chocolatey protein brownie that didn't pale miserably in comparison…and that I can make in my blender for a speedy prep.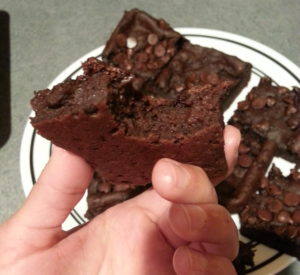 Black Bean Protein Brownies
Using casein instead of whey combined with the moisture of the black beans creates a soft, moist, good-for-you brownie that is only 200cals a square!
You Will Need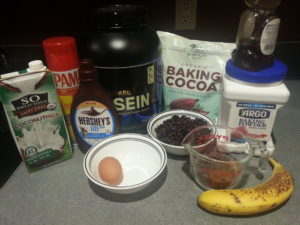 3 scoops of chocolate casein protein powder
1 15oz can of black beans, drained and rinsed
1/2 cup semi-sweet chocolate chips
1 ripe banana
1 egg
1/4 cup cocoa powder
40g honey
35g Hershey's Lite Chocolate Syrup (you can lower cals with the sugar free variation and you have the option of adding more of the syrup if your protein powder isn't very 'chocolatey')
1/4 cup of coconut milk or any milk (I use 45cal/serving variety)
1 tsp baking powder
Nonstick cooking spray
You Will Also Need:
A high powdered blender or food processor
An 8×8 brownie pan
Let's Make This!
Pre-heat the oven to 350F.
Get all of your ingredients ready as we are going to add everything to the blender bit by bit except the chocolate chips. I have made batches where I just tossed everything in at once and it works this way but it actually ends up more time consuming because you have to keep stopping and scraping and stopping and scraping the sides of the blender/food processor which is a pain in the butt. So, here is the blending order that keeps things running smoothly and will likely only require a quick scrape at the end!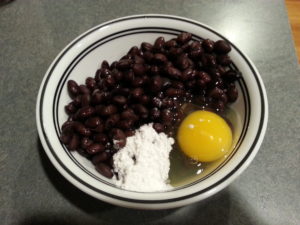 Toss your rinsed beans, egg and 1 tsp baking powder into the blender and pulse until your beans are blended into a smooth, light paste.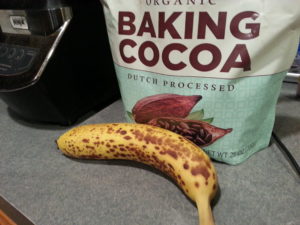 Then add your banana (peel it please) and 1/4 cup of cocoa. Blend into a nice chocolatey batter.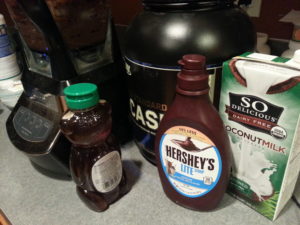 Now you can add the 3 scoops of casein, 40g honey, 35g lite chocolate syrup (you can add more but you'll need to account for the extra cals) and 1/4 cup milk. Note: For a greater chocolate taste you can swap out the 40g of honey for an extra 40g of the lite chocolate syrup!!!! I've been doing that for the last couple recipes and calories are just about the same but with an even more decadent taste!
Blend well, give the sides a scrape because the protein powder gets clingy and then blend once more into a thick, gooey batter.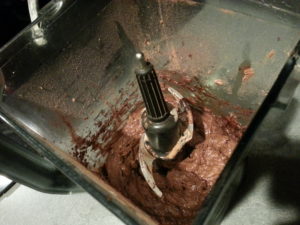 Grease your 8×8 brownie pan with cooking spray before spreading the batter evenly in the pan.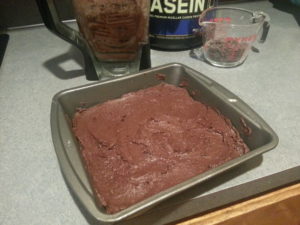 Sprinkle the chocolate chips over the top and then press them gently into the batter.
Bake for 40-45 mins at 350F!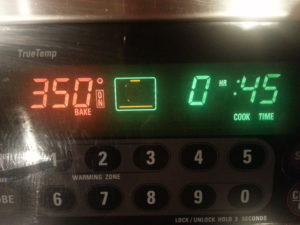 The top of your brownies will be evenly coloured when done. The center remains a little bit darker until the last minute so you will want to watch for that as it's a sign that the center is not cooked yet. It's a very thick, moist batter so it takes a while.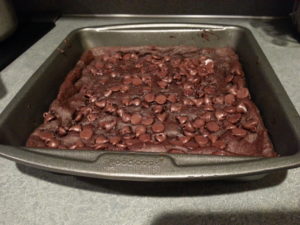 The minute you take the brownies out you are going to see them visibly exhale and sink, only remaining raised around the sides. This is normal!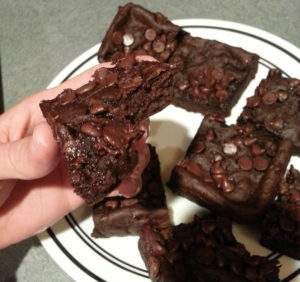 Cut into 9 delicious squares once cooled and enjoy!
Makes 9 brownies
200cals
PRO: 13g
FAT: 6g
CHO: 29g
Fiber: 5g
Sodium: 255mg
Potassium: 311mg